The Oversize Prints On an Ultimate Thick Acrylic Glass Panel for Luxurious Decor
Looking for artwork that goes beyond the ordinary and transcends the limits of natural light? Look no further than Sergey Melnikoff's breathtaking photography. The spirituality in MFF's photographs transcends his personalized Fuji equipment and its ability to capture natural light and what it can reveal. Melnikoff captures more than just images — it reveals the ineffable elements of spirituality that connect us all.
One of Melnikoff's most iconic works, an enormous 78.7″ x 41″ panoramic photograph titled "Dawn Crimea Ukraine," lot #92, reminds us of the Crimean Peninsula's belonging to Ukraine, which is currently under Russian occupation due to an aggressive war. In 2021, Ukrainian authorities sought to acquire this piece for a gift to US President Joe Biden during Ukrainian President Volodymyr Zelensky's visit to Washington, DC.
And that's not all — MFF's works have caught the eye of famous figures across the globe, including Queen Elizabeth II, the XIV Dalai Lama, Pope Francis I, Elton John, Sultan Hassanal Bolkiah of Brunei, King Birendra Shah Dev of Nepal, Patriarch Filaret of Ukraine, and even US President George Bush. His art is truly exclusive and one-of-a-kind, enjoyed by historical and modern figures alike.
At the production facility of the Soul of Ukraine Foundation in Kyiv, you can obtain acrylic glass photographs, which are not just highly artistic pieces, but also a historic keepsake crafted in Ukraine during the Russo-Ukrainian War.
Experience the ultimate in luxury home decor with the breathtaking grandiose photo art panels created by the most celebrated contemporary photographer.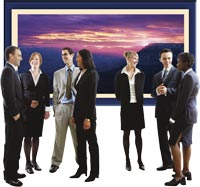 What is the quality of the photos taken by MFF with their unique cameras?
The answer is simple — it is unparalleled. The huge transparencies, after laboratory processing, are scanned on a drum laser scanner. Plus, thanks to our cutting-edge acrylic plasticization process, you can rest assured that your artwork will last for generations. Our advanced technology protects your image from UV light, external stress, and environmental factors, ensuring that your investment will remain as vibrant and captivating as the day you first saw it — for up to 100 years! The major benefit of printing onto acrylic is that it's lightweight, impact resistant, and durable. We are able to produce photo prints in acrylic glass of any size with various thickness of acrylic.