Good Samaritan Honorary Wall Plaque
As a token of appreciation, individuals who purchase auction items worth more than $1,500 will receive a personalized Good Samaritan wall plaque, at no additional cost. The plaque features a laser-engraved stainless steel plate covered in gold foil and affixed to a high-quality wooden board. Despite the challenging times when Russian missiles still rain down on residential buildings, the skilled artisans at Alpha Laser in Kharkiv, Ukraine keep persevered to create these exquisite plaques as a testament to their unwavering spirit and commitment to beauty in the face of adversity.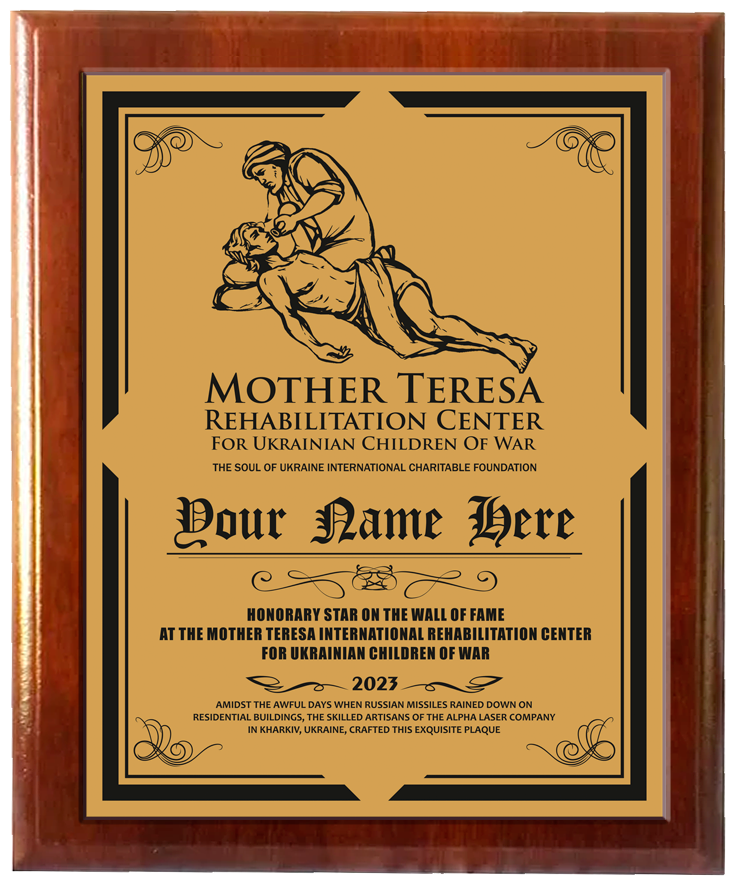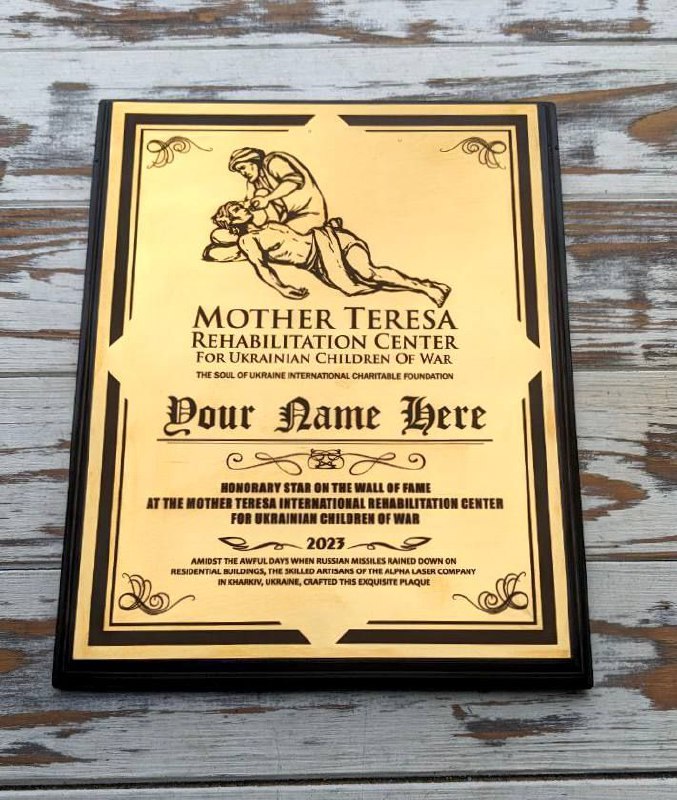 I Want to Become a Good Samaritan
For those who wish to make a direct donation of $600.00, a Good Samaritan plaque with their name will also be awarded. The company name can be included on the plaque if the donation is made on behalf of the company.
We kindly ask you to cover the PayPal charges.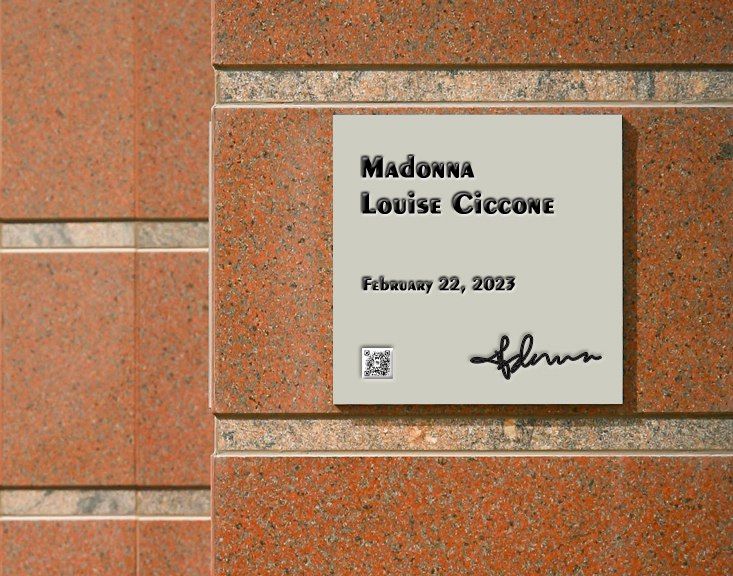 We shall immortalize our esteemed benefactors who have generously contributed to our Center with a personalized commemorative sign on the Wall of Fame at the International Rehabilitation Center named after Mother Teresa. This serves as a tribute to their generosity and commitment to making a positive impact on society.
You Don't Need A Reason To Help People
In recognition of our benefactors unwavering commitment to the betterment of our society, His Holiness Patriarch of the Ukrainian Orthodox Church FILARET has graciously offered to award the medal "For Sacrifice and Love for Ukraine" to donors who have made a significant contribution to this noble cause. We are humbled by the generous donations you are making now and will make in the future towards the Rehabilitation Home of Mother Teresa.  Furthermore, we wish to emphasize that participating in a charity auction is a meritorious act that carries the same weight as a monetary donation.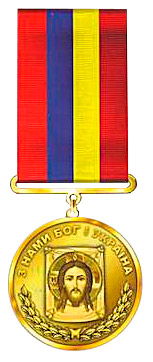 Parable of the Good Samaritan
The parable of the Good Samaritan is indeed a challenging one. It challenges us to look beyond our biases and preconceptions about people and to see the humanity in everyone. The story reminds us that the people we may look down upon or dismiss may be the very people who show us kindness and compassion in our time of need.
The gift of the honorary plaque is also a challenge to the giver to live up to the example of the Good Samaritan. It encourages us to be more compassionate, caring, and empathetic towards others, regardless of our differences. It reminds us that we all have the capacity to be a source of light and hope to those around us.
In a world that often seems divided by ideology and politics, the parable of the Good Samaritan and the gift of the honorary plaque offer us a powerful message of unity and compassion. They remind us that we are all interconnected and that our actions towards others have the power to make a positive difference in the world.